Our guide team is compiled of some of the top muskie + walleye guides in the Northland, with decades of professional guiding, seminar speaking & tournament experience. When fishing with our guides you'll learn the latest trends and most successful muskie + walleye techniques today. We'll be sure to make it fun to be on the water chasing these monster fish!
When you are looking into planning a guided muskie or walleye trip, there are some important qualities to look for in a guide service. Our guide team has extreme patience with new beginners, a keen knowledge and expertise of the area waters, on-the-water information and techniques to put you on BIG fish!
We are members and supporters of: Muskies Inc, MMA (Minnesota Muskie Alliance), Lake Vermilion Guides Association, and Minnesota Muskie Guides Association.
My name is Dustin Carlson and I reside in Duluth, Minnesota which offers me the opportunity to fish some of the finest trophy lakes/rivers in northern MN including Lake Vermilion. My 20 plus years of pursuing and guiding monster muskies and walleyes has given me the opportunity to fish many of the finest waters over the Midwest and all over Canada.
My love and passion is chasing those monster muskies and walleyes from the beginning of the season till the baits are bouncing off the ice. I have caught many trophies in the late fall trolling. I love to chase muskies and walleyes at all hours; if you may be interested in night fishing, experienced anglers are recommended and will have a chance at a trophy including many fish over 50 inches every year.
I'm also an active tournament Muskie and Walleye angler with the following highlights in my career:
2007 1st Place Minnesota Muskie Tourmentnet on Lake Vermilion
2018 1st Place ALS Walleye Tournament on Island Lake
2019 1st Place AMSOIL Walleye tournament on St. Louis River
2019 1st Place "TPWA" Twin Ports Walleye Association- June Shootout Tournament on St. Louis River
I am blessed to stay on the forefront of knowledge of our bodies of water to not only put you on fish but to give you the opportunity of a monster Muskie or walleye. I put many monster Muskies in the boat every year with many exceeding 50 inches.
I practice catch & release only. With the great job that Minnesota DNR has done with its stocking and minimum length requirements will help protect our valuable resource to future generations to come.
My focus of guiding monster muskies and walleyes is to offer my customers an exciting & memorable experience they will never forget. Whether you're a beginner or a seasoned veteran looking to get a chance at that trophy muskie or walleye of a lifetime, I look forward to guiding you with Northland Muskie Adventures.
I FISH OUT OF 2018 RECON BOAT POWERED BY A 300HP EVINRUDE G2, HUMMINGBIRG ELECTRONICS, RODS & REELS (IF NECESSARY), ALL TACKLE (IF NECESSARY) RELEASE TOOLS, LIFE JACKETS & OF COURSE A DIGITAL CAMERA20
Hello my name is Pete Brzezinski. I live in Superior Wisconsin with my supportive wife Debbie. Living in this part of the state gives me endless opportunities to fish muskies and walleyes from the Hayward area, Duluth/Superior area and up to the giants of Lake Vermilion. Over the past nine years I have focused my efforts on the vast St. Louis River and the monster muskies and walleyes that live here!
As the former owner of Natural Born Killers Guide Service I have joined with three of the best muskie and walleye fisherman I've fished with to form this top-notched guide service.
I have experience guiding beginners that are looking to catch their first muskie or walleye and seasoned veterans that are after the fish of a lifetime. If you look through our guide team's photos you will see that we come in contact with some giant muskies and walleyes throughout the season and I would love to have you in my boat tangling with one of these beasts.
I chase muskies and walleyes from opening day right up until it freezes up tight in late November. This past season I broke ice out of the landing for three days until I had to give in to mother nature. I have no set hours when I'm out fishing. If we are out and the fishing is good or we locate a good fish we stay, this may mean we stay into the dark so bring your head lamp!
I addition to guiding in the summer I also guide for walleyes through the ice depending on the ice conditions here in Superior.
I'm currently a member of Muskies Inc. here in Duluth, through this organization we help to enhance the great sport of muskie fishing and being an active member keeps me on the leading edge of what is new in the muskie world. Over the last few years my partner and I have participated in a few muskie tournaments on the WMT series (Wisconsin Muskie Tour) where we had good success.
Tournament Achievements:
2003 3rd Wisconsin Muskie Tour (WMT) Lake Lake Wausau
2004 2nd place (WMT)Minocqua/Kawaguesaga
2005 5th place (WMT)Pelican Lake
2006 1st place (WMT)Pelican Lake
4th place Invitational Championship(WMT) Eagle River Chain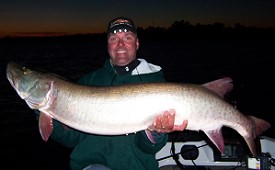 My name is Bob Benson, and I've been chasing Muskies and Walleyes for 30 years. For the last 10 years I've focused mostly on the tremendous Muskie and Walleye waters of Northern Minnesota.
Every day and moment I spend on the water is focused on catching the largest Muskies and Walleyes available. Many trophy Muskies and Walleyes come aboard my 620 Ranger each year, and every one is carefully released back into the water – so bring your camera. (Catch and Release Only)
While I prefer to try and avoid crowds as much as possible my 2007 highlights include winning the 2007 Minnesota Muskie Tournament Trail event and also winning the Bountyfishing.com 2007 Musky/Pike Master Angler award for this past season.
Over the course of the season many different tactics are used, from Casting surface baits, Trolling Giant Crankbaits and even Live bait when necessary. We'll do whatever it takes each day to give you the best shot at a Monster Muskie and Walleye!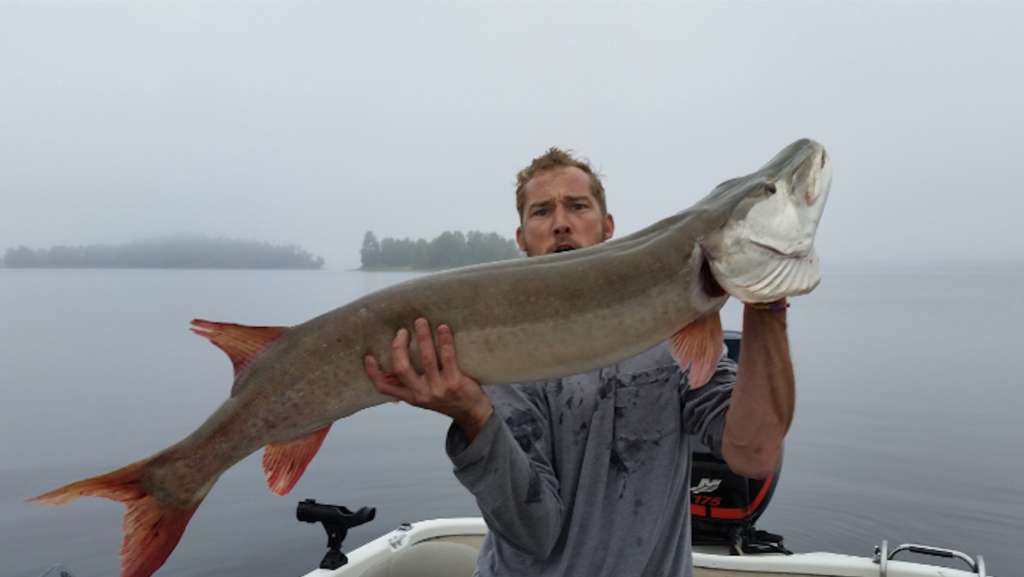 Hello my name is Matt Monette. I live in Duluth, Minnesota. I have always been an avid fisherman but have focused on hunting muskies and walleyes for the past 12 years. I take fishing very seriously. I grew up in Duluth, MN which has allowed me the opportunity to hunt the various trophy lakes and rivers for my entire life.
My obsession for the sport of hunting these Giants keeps me going in an effort to catch the biggest fish in the lake until ice sets in and at all hours of the day. I chase the GIANTS that swim the St. Louis River and the MONSTERS of Beautiful Lake Vermilion amongst other bodies of water in the area. I practice catch and release of all muskies and walleyes, catch-photo-release. My focus is to give you the opportunity to catch the fish of a lifetime.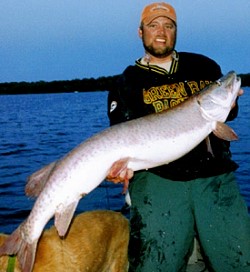 Adam passed away in 2009, and will always be part of our Guide Team, but we want to leave his bio up on our guide page to share with everyone. Rest in peace our friend.
Hello, I am Adam LaPorte. I grew up 1 mile from the central Wisconsin River drainage. Most of my early childhood years were spent begging my dad and grandfather to have me in the boat while fishing walleyes or smallmouth which in turn was a very common occurrence. But when I was big enough to handle the cue stick musky rods of the era, the casting outings for Mr. Sox were the highlights of my year!
As I got older the musky hunting quickly went from a passion to an obsession! Once I had a driver's license I was unstoppable. I spent most of my early years in Vilas and Oneida counties in NE Wisconsin and in the constant pursuit of bigger and better I wandered into NW Wisconsin and NE Minnesota which I now call home, living in Superior Wisconsin.
Now 36 years old, I have been fishing and living in the area for several years now. I have been a licensed guide for over 17 years. The experiences of fishing with parents and their children have always been the highlight of my seasons.
I look forward to talking with anyone interested in booking a trip or just to talk fishing. Part of today's trips are about not only catching as many big fish as possible, but also the how, when and why related to the fish we are pursuing.
My 20+ years fishing experience is available for anyone to tap into by fishing with me for the day. The areas I fish now are the very best I have ever had the opportunity to guide on!
Visit our contact page for other ways to contact Northland Muskie Adventures Guide Service, or contact any one of our guides for questions or to book your next guided trip.